Posted by Hyundai Power Products Direct on 23rd Apr 2021
Now that the weather is getting warmer and sunnier by the day, and lockdown rules have relaxed so we can meet friends outdoors, you might be starting to think about getting your garden clean, tidy and guest-ready.
Have you looked in your shed and realised that your mower has given up the ghost? Maybe your mower has become less and less efficient at cutting the grass, meaning that a task that should take a half an hour is now taking hours? Or maybe you just want to treat yourself to a new mower with the latest tech.
Having a reliable lawn mower that suits your specific needs is very important. But how can you tell whether petrol-powered, lithium-ion battery-powered, corded mains electric-powered mowers or even a robot mower will suit you best?
Read on to find out more about the benefits of each type of mower, and considerations that you might need to take on board to match up the right mower to your needs.
Benefits of Petrol Mowers
Our Hyundai petrol mowers are always a popular option for medium to large garden owners.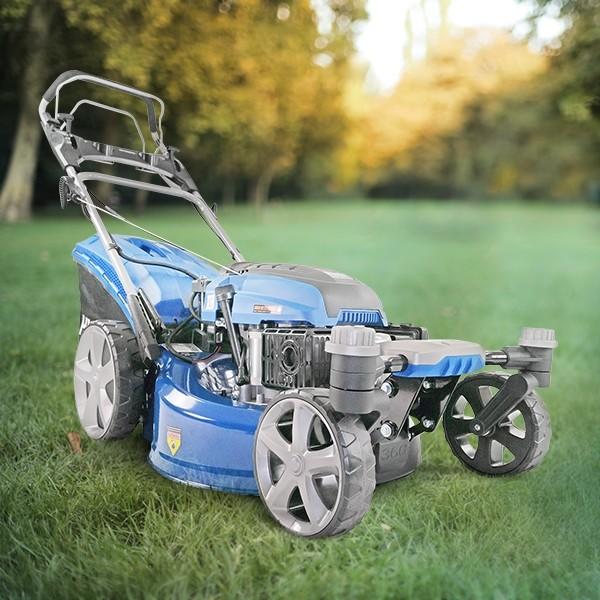 With their wide cutting widths and large fuel tanks, our Hyundai petrol mowers are also powered by tried and tested Hyundai low-emission, economical Euro V petrol engines to give you that extra boost of power.
If you're the type of person who regularly leaves the lawn to grow extra-long before taming it with your mower, a petrol lawn mower could also be a good choice due to the extra power it provides.
Petrol mowers also offer the option to mulch the cut grass into very fine clippings which, when deposited back onto the lawn, act as a natural fertiliser for a healthier, greener lawn.
These mowers also offer a self-propelled option. Especially handy if you have a garden on an incline, self-propelled mowers drive themselves – all you need to do is steer, minimising any strain on your arms and shoulders and also preventing you from getting hot and sweaty when mowing the lawn in the height of summer.
Many petrol mowers also offer a rear roller to get those highly desired lawn stripes. Although some of our corded electric mowers also offer this, because petrol mowers are heavier, the stripes tend to last for longer.
Petrol mowers will also always be ready to go – you won't have to wait for any batteries to charge as you would with a cordless mower.
Also, unlike corded electric mowers, petrol mowers have no cables to restrict you to one part of your garden, which is especially helpful for large lawns or grass more than 10m away from a power source.
Petrol mowers also offer the option of an electric start as well as the traditional recoil start, which means you can get mowing at the touch of a button.
Click here to view our full range of Hyundai petrol lawn mowers.
Benefits of Cordless Mowers
Providing a safe, clean and green alternative to petrol and corded electric-powered garden machinery, Hyundai's battery-powered range are all powered by an interchangeable lithium-ion battery.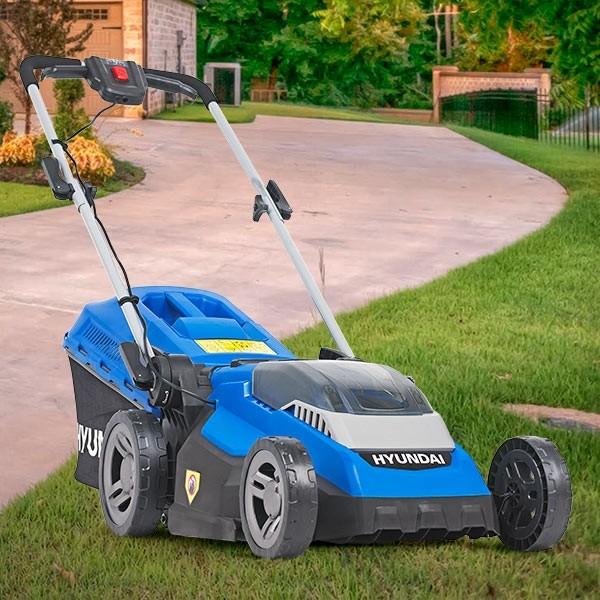 Offering a battery life of over 1000+ charges, the same battery fits our entire Hyundai cordless garden machinery range.
Our battery-powered range is incredibly low maintenance – you won't have to worry about mixing oils, dealing with stale fuel, or other routine maintenance that accompanies petrol machinery ownership, or have to be restricted by cables like with corded electric garden machinery.
Not only this, Hyundai cordless lawn mowers are incredibly quiet-running, minimising any disruption to your family or neighbours when mowing your lawn.
If you're short on space, you should definitely consider one of our cordless mowers as the handles fold down for compact storage, and they also offer the option of vertical storage to increase floor space in your garage or shed.
Our cordless range even has a mower for those who hate mowing the lawn! The Hyundai Robot Mower features smart AI technology to mow the lawn for you, fully automated, and once set up initially requires absolutely no human intervention.
Our cordless mowers are more suited to small to medium-sized lawns – if you have anything bigger than this, you might want to consider a petrol mower.
Click here to view our full range of Hyundai cordless lawn mowers.
Benefits of Corded Electric Mowers
Ideal for small to medium-sized gardens, our corded electric mowers are our most budget-friendly option available.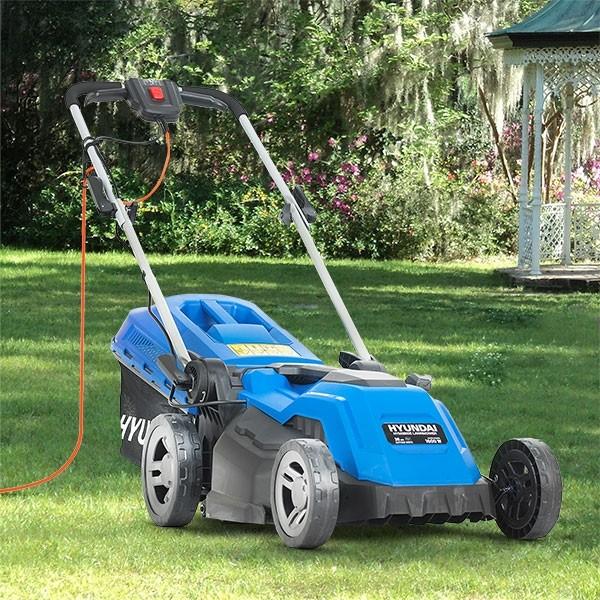 With our electric mowers, you can just plug and play - unlike petrol mowers, you won't need to top up fuel or oil before starting, and you won't need to wait for a battery to charge like with our cordless range.
The electric mowers' 10m power cable will give you plenty of room to get your grass cut without having to use an extension cable.
Electric mowers are also incredibly lightweight, making them comfortable to push around your garden and minimising any arm and shoulder strain. This lighter weight also makes it a lot easier to avoid obstacles, turn and navigate slopes.
Some of our electric mowers even include a rear roller to get that sought-after traditional striped British lawn.
Our Hyundai Electric Lawn Mowers are also incredibly low maintenance and hassle-free – unlike petrol mowers, there are no spark plugs to replace and no stale fuel to empty.
Click here to view our full range of Hyundai corded electric lawn mowers.
We hope you've found this buying guide helpful and remember: if you need any further buying advice, our team of experts is on-hand to help you so just get in touch!
Click here to see our full range of lawn mowers available. For expert advice or any questions you may have, you can give us a call on 01646 687880, fill out the contact form here or drop us a message on any of our social media pages - Facebook, Instagram or Twitter.